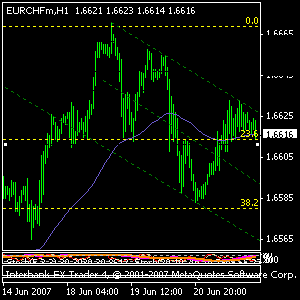 Friday 22:45 EST- Pay attention to the pitch fork (3 green lines)or the channel, 23.6, 38.2 and the 50 fibo levels.

Price is on consolidation right now, wedge triangle will be sight if you zoom in the chart, Breach of 23.6 fibo, we will see 50 fibo level or lower channel soon. On the 4hr chart, we see a down trend is forming. On 1hr chart, hanging man candle formed 3 days ago.

Overall, it is a pretty good indication of a down move. Not an intraday trade, it might take days... .I'll report some updates later.