Daily chart:
- Price touch the lower channel. Might bounce from there or a full reversal.




4h chart:
- Stoch crossed up.
- CCI about to cross, not confirm yet.
- RSI hovering around 30 level.
- Outside the Bollinger Band.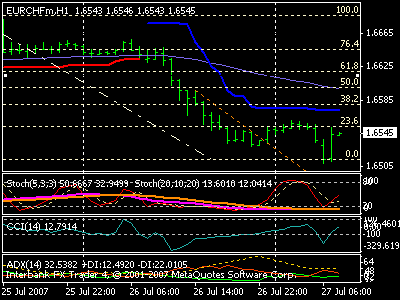 1h chart:
- Stoch & CCI just crossed up at the same time.
- ADX shows bear losing momentum.
- Bull engulfing candle/bar formed.

We can scalp a little from here or a probable a full reversal. There are lots of resistance lines above, so be careful. Pay attention to 38.2 and 50 fibs of 1h chart.

I'm not taking this trade. I still have 3 sets of long hedge opened on a drawdown. Carrys unwinding, I better stay on the sideline for now.